Walt Disney's Silly Symphonies:
Beginning in the 1930s, feature films were often preceded by obligatory cartoon shorts, showcasing a rapidly-developing film technique. While working on the development of Mickey Mouse shorts, Disney also began a new venture. He experimented with an ambitious, innovative and groundbreaking series of animations with musical accompaniment called Silly Symphonies - a series of 75 shorts that lasted 10 years from 1929 until 1939, and won a total of seven Academy Awards.
The first of Disney's Silly Symphonies was the landmark The Skeleton Dance (1929), released on August 22, 1929, a night-time graveyard dance of skeletons. Other Silly Symphonies cartoons followed in the same year:
El Terrible Toreador, September 7, 1929
Springtime, October 24, 1929
Hell's Bells, October 30, 1929
The Merry Dwarfs, December 16, 1929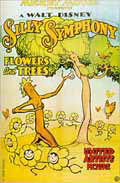 Disney's first fairy-tale adaptation was the Silly Symphony's title Babes in the Woods (1932), based upon the Hansel and Gretel story by the Brothers Grimm. The first animation in full three-color Technicolor was the 29th of Disney's short Silly Symphonies: Flowers and Trees (1932) with anthropomorphic characters - it produced Disney's first Academy Award, the first of Walt's 32 personal Academy Awards. The popular, influential Depression-Era fable The Three Little Pigs (1933) was released in 1933 with its optimistic hit theme song: "Who's Afraid of the Big Bad Wolf?" (based upon the tune of Happy Birthday) that became a Depression-era anthem. It was one of the earliest films displaying 'personality animation' - each of the three pigs had a distinctive personality.
Innovations continued to be created in the short creative animations, the first official Mickey Mouse cartoon made in color titled The Band Concert (1935), Music Land (1935) and The Old Mill (1937) - the latter being the first to use the multi-plane camera to provide an illusion of spatial depth and movement. The following list summarizes all of Disney's 'Oscar'-winning Silly Symphonies:
Flowers and Trees (1931/2)
The Three Little Pigs (1932/3)
The Tortoise and the Hare (1934)
Three Orphan Kittens (1935)
The Country Cousin (1936)
The Old Mill (1937)
The Ugly Duckling (1939)
Other Disney Cartoon Characters:
The cartoon character Pluto was first introduced (unnamed) in 1930 in the Mickey Mouse cartoon The Chain Gang (1930) and named Rover in The Picnic (1930). It took another short before he attained his familiar name. Eventually, Lend a Paw (1942), with Pluto in the lead role, won an Oscar for Best Short Subject: Cartoon. Goofy debuted as an extra in Mickey's Revue (1932). [Recently, he was featured in his own full-length film, A Goofy Movie (1995).] A sailor-suited, web-footed Donald Duck was introduced in 1934 in the Silly Symphony The Wise Little Hen (1934) (with his brief opening words "Who--me? Oh no! I got a bellyache!"), and then in Orphan's Benefit (1934) (this also marked Donald's first appearance in a Mickey Mouse cartoon, and with Goofy - of course, this was the first time that all three characters appeared together). Mickey Mouse made his color film debut in The Band Concert (1935). Donald's female partner, Daisy (first named "Donna Duck") was introduced in Don Donald (1937).
Columbia Pictures Cartoons: Krazy Kat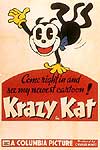 The character of Krazy Kat was featured in a long-running series of black and white cartoons produced by Columbia Pictures Corp. beginning in 1929 through to 1935 (in 1935 they became Technicolored), although the cartoon Kat had already been established as early as 1916 by International Film Service, Inc. with their Introducing Krazy Kat and Ignatz Mouse (1916). The first Krazy Kat cartoon was Ratskin (1929), followed by Canned Music (1929).
Fox's TerryToons Cartoons:
The animation studio TerryToons was established in 1929 by newspaper cartoonist Paul Terry (1887-1971) and Frank Moser (1886-1974). They began producing cartoons by 1930 (until 1935) that were distributed by Fox Pictures. The titles of their first 25 films were all food items, such as: Caviar (1930), Pretzels (1930), Spanish Onions (1930), Indian Pudding (1930), Roman Punch (1930), and Hot Turkey (1930).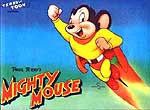 The most famous and valuable cartoon character from TerryToons was Mighty Mouse, a Superman-like mouse superhero that first debuted as a prototype "SuperMouse" in the short The Mouse of Tomorrow (1942). In a couple of years, the more recognizable Mighty Mouse was born and renamed in an appearance in The Champion of Justice (1944). He became known for his yellow costume, red cape, and his anthem song, with the words "Here I come to save the day!" Later, CBS-TV took the Mighty Mouse cartoons and packaged them into a very popular Saturday morning television show called Mighty Mouse Playhouse, beginning in 1955 and lasting for a record eleven years. Mighty Mouse was the first cartoon character ever to appear on Saturday mornings.
The other most famous of TerryToons characters were Heckle & Jeckle, identical black crows who first appeared in the mid-40s in The Talking Magpies (1946).
Leon Schlesinger: The Early Days at Warners

Warners' producer of cartoons, Leon Schlesinger (from 1930-1944) released a 5-minute pilot film named Bosko The TalkInk Kid (1929) - the first synchronized talking animated short/cartoon (as opposed to a cartoon with a soundtrack), with a little black boy character named Bosko who actually spoke dialogue. [The character of Bosko slightly resembled its major competitor at the time - Disney's Mickey Mouse, and many of the studios also had similar characters, such as Lantz' Oswald the Lucky Rabbit (see below), or Columbia's Krazy Kat.] At the end of the cartoon, Bosko went back into the inkwell and said, "So long, folks!" - the origination of the famous "That's all, folks!" end title. The Bosko pilot was drawn by two ex-Disney animators -- Hugh Harman (1903-1982) and Rudolf Ising (1903-1992), who began to make the first cartoons for Warner Bros.
The Birth of Looney Tunes and Merrie Melodies: The Ascendancy of Warner Bros

The Bosko film was the impetus for the birth of Warners Bros.' Looney Tunes (see more below). The black and white Sinkin' in the Bathtub (1930), with Bosko in the starring role, was the earliest talking 'Looney Tune', released on May 30, 1930. It also included the song later popularized by Tiny Tim: "Tiptoe Through the Tulips." Following their success with Looney Tunes, Warners expanded with a lively new series called Merrie Melodies beginning in 1931 - the first of which featured a character named Foxy. The first Merrie Melodie was Lady, Play Your Mandolin! (1931), released on August 31, 1931, followed by Smile, Darn Ya, Smile! (1931) (animated by Isadore Freleng & Max Maxwell) and One More Time (1931). Looney Tunes and Merrie Melodies were made with Harman-Ising until near mid-1933, when they split with Schlesinger.
Animators at Warner Bros. Studios began to challenge the style, form and creative content of Disney's pastoral animations in the early 1930s and after. Their cartoons were characterized as being more hip, adult-oriented, and urban than the comparable Disney cartoons of the same period.

From 1933-1935 , producer Leon Schlesinger began assembling more staff for Warners, including Bob Clampett and Disney animator Jack King (famous for The Three Little Pigs) to begin creating the official Looney Tunes series. The first Looney Tune was Buddy's Day Out (1933), featuring a Bosko-like character (subsequent Looney Tunes were just a series of Buddy pictures), and the first color (Cinecolor) WB Merrie Melodie was Honeymoon Hotel (1934).
Friz Freleng, Chuck Jones and other animators also joined the Warners staff - who would soon be creating some of the best-loved cartoon characters and animations of all time. Beginning in 1935, they worked in a run-down back lot building known as 'Termite Terrace.'
Happy Harmonies: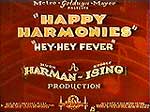 Meanwhile, at MGM by 1934, Hugh Harman and Rudolf Ising created the Happy Harmonies series of cartoons, eventually producing a total of 36 films by 1938. The first few in the series were:
The Discontented Canary (1934)
The Old Pioneer (1934)
A Tale of the Vienna Woods (1934)
Bosko's Parlor Pranks (1934)
Toyland Broadcast (1934)
Hey-Hey Fever (1935)
Tex Avery Era at Warners: The Classic Cartoon Characters
From 1935 onward until the early 40s, Warner's director of animation Fred 'Tex' Avery (who was recruited from Lantz, see more below), was responsible for much of the manic, satirical, absurdist, extra-violent, crude characters and corny gags and slapstick of numerous productions. Avery's animations, often designed for adult audiences, were often noted for 'pushing the envelope' of acceptable taste. Their first animated star was Porky Pig (see Bob Clampett below). Avery's first WB cartoon was Gold Diggers of '49 (1935) starring Porky Pig.
Looney Tunes and Merrie Melodies were titles that directly copied competitor Disney's Silly Symphonies. Looney Tunes became known for closing with the familiar Porky Pig end tag: "That's All Folks!" In 1936, composer Carl W. Stalling (who was the musical director of Warners' animation department for over two decades) chose "Merrily We Roll Along" (used most often for Merrie Melodies) and "The Merry-Go-Round Broke Down" (used most often for Looney Tunes) as the distinctive theme songs for Warners' cartoons.
Along with his famed animating staff - Isadore "Friz" Freleng, Bob Clampett and Chuck Jones, Tex Avery created two of the greatest stars for Warners:
Daffy Duck

Bugs Bunny (with his famous catchphrase: "What's up, Doc?")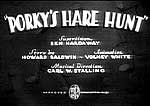 Daffy Duck's first appearance was in Avery's Porky's Duck Hunt (1937), remade the next year as Porky's Hare Hunt (1938). The name Daffy Duck (derived from the name of famed baseball player Dizzy Dean's brother Daffy) was used for the first time in the title of Avery's second duck-hunt picture Daffy Duck and Egghead (1938) - this was also the first Daffy Duck cartoon in color. [Egghead was the prototype for the character of Elmer Fudd.] (Through most of these years, voice artist Mel Blanc provided the voice for all the starring WB characters: Bugs Bunny, Sylvester, Porky Pig, Daffy Duck, Speedy Gonzalez, and many others.)
A prototype of Bugs Bunny debuted with co-star Porky Pig in Porky's Hare Hunt (1938) as a wiseguy hare. Bugs first said his famous line ("Eh, what's up, Doc?" voiced by Mel Blanc) in his fourth, Oscar-nominated Tex Avery cartoon, A Wild Hare (1940) - the first true Bugs Bunny cartoon with Elmer Fudd as a rabbit hunter (and noted for Elmer's first use of his 'wabbit' voice). Bugs finally received his identifiable name by his fifth cartoon, Elmer's Pet Rabbit (1941).
Bob Clampett:
Bob Clampett was one of the earliest animators and directors at Warners and was there until the mid-40s. His first screen credit was for the Freleng-directed Shake Your Powder Puff (1934). He played a role in the creation and development of the cartoon characters of Porky Pig and Bugs. The first Porky Pig Pig cartoon was I Haven't Got a Hat (1935). He also animated the crucial scenes in the first Daffy Duck cartoon, Porky's Duck Hunt (1937). He was best known for originating the character of Tweety (who first appeared as a flesh-colored birdie named Orson in A Tale of Two Kitties (1942)).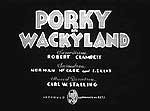 One of his most famous cartoons was Porky in Wackyland (1938), with the character of Porky hunting the last elusive and zany Do-Do bird in Wackyland, populated with surrealistic, Salvador Dali-inspired characters. The cartoon was remade eleven years later (in color) as Dough For The Do-Do (1949). [Later in Clampett's career, he received three Emmy awards for one of television's first daily live puppet shows, Time for Beany.]
Friz Freleng:
One of the earliest pioneering animators was Friz Freleng, who directed the first Porky Pig cartoon (in two-strip Technicolor) I Haven't Got a Hat (1935) featuring the stuttering character. In the 40s when he was working at Warners, he was best-known for his contributions to the zany Looney Tunes cartoons, including for example, Daffy Duck and Porky Pig in You Oughta Be in Pictures (1940) - a spoof satire of the way in which emerging, fast-talking star Daffy convinces Porky to quit his job at Warners by ending his contract with studio head Leon Schlesinger.

Freleng also introduced the characters of hot-tempered Yosemite Sam (who first appeared in Hare Trigger (1945)) and Speedy Gonzales (who appeared redesigned in Freleng's Speedy Gonzales (1955)), and brought lisping cat Sylvester (known for his trademark: "Thufferin' Thuccotash!") and yellow Tweety (Bird) (with the trademark: "I tawt I taw a puddy tat!") together in a series of Friz Freleng-directed films from 1947-1964. Their first film together (in which Sylvester was called "Thomas") was Tweetie Pie (1947) - it brought the Warner Bros. cartoon department its first Academy Award. [Sylvester's first film was Life With Feathers (1945), while Tweety Pie preceded the feline predator and first appeared in A Tale of Two Kitties (1942), but was named Orson.]

Friz Freleng (and David DePatie) also created the cool, bluesy 'The Pink Panther' animation with a pink feline character for the opening credits of The Pink Panther (1963). The first of a series of theatrical cartoons based upon the pink character was titled The Pink Phink (1964), and it won an Oscar for Best Animated Short Subject. In 1969, he successfully transitioned the character to television as The Pink Panther Show. One of his most famous cartoons was a jazzy version of the original The Three Little Pigs titled Three Little Bops (1957). Freleng won several Oscars over the years, for the films Tweety Pie (1947), Speedy Gonzalez (1955), Birds Anonymous (1957), and Knighty Knight Bugs (1958).
Chuck Jones:
At Warners after Avery's departure in 1942, Chuck Jones furthered the character development of Bugs Bunny and Porky Pig. He was also responsible for Elmer Fudd, who first appeared in Elmer's Candid Camera (1940) (although the name "Elmer Fudd" had first been applied in WB cartoons to the Egghead character in A Feud There Was (1938)). Jones provided the famous Hunter's Trilogy of cartoons about 'wabbit-season'/'duck-season' in the early 50s, with Bugs Bunny, hunter Elmer Fudd, and the hapless Daffy Duck:
Rabbit Fire (1951)
Rabbit Seasoning (1952)
Duck! Rabbit! Duck (1953)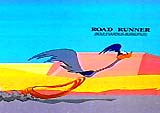 He also created the Road Runner series with Road Runner ("Meep, Meep" or "Beep, Beep") (known as Accelerati Incredibulis) and Wile E. Coyote (known as Carnivarious Vulgaris), debuting together in Fast and Furry-ous (1949). The setting for the cartoons was always the American Southwest, with the hapless Coyote devising various vain schemes to catch the non-combative, speedy Roadrunner - who zoomed along the winding roads through the desert. Intended to be a one-time only appearance, their popularity called for another cartoon produced 3 years later, Beep, Beep (1952), and then a series of cartoons for many years.
Chuck Jones also developed more minor animated characters such as Pepe Le Pew, Inki, Marvin Martian, Michigan J. Frog (see below), Gossamer, and Charlie Dog. As Disney did with Fantasia (1940), Jones fused classical music (Rossini's Barber of Seville, Mendelssohn's Wedding March, and a visual gag about Mozart's The Marriage of Figaro) into the cartoon form in one of his best animations - Rabbit of Seville (1950), featuring Elmer Fudd and Bugs as opera singers.

The comic Warner Bros.' Merrie Melodies masterpiece Duck Amuck (1953), inducted into the National Film Registry in 1999, has been widely considered Jones' best cartoon short. In the self-reflective animation, a tormented Daffy Duck struggles against the malicious, off-screen animator himself (revealed at the end as Bugs Bunny, although Jones admitted he was the culprit), as his character is redrawn, and the props, soundtrack, and backgrounds are changed as Daffy's chances as an emerging cartoon 'star' are sabotaged.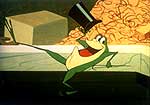 Another of Jones' most famous cartoons was the renowned One Froggy Evening (1955) - about a singing/dancing frog (in retrospect named Michigan J. Frog) who was unearthed from a condemned building's cornerstone. A construction worker - who pursued a fortune with the talented croaker, was dismayed when the Frog would only perform for him and not for an audience or talent agency. The cartoon was noted for a lack of spoken dialogue, and a rich collection of ragtime era songs - Steven Spielberg once noted that it was "the Citizen Kane of animated film". [Years later, a look-alike Michigan J. Frog would become the mascot of Warner Bros. new television network channel.] The animation was inducted into the National Film Registry in 2003.
An additional Jones' masterpiece was the 7-minute parody What's Opera, Doc? (1957) - featuring Bugs' nemesis Elmer Fudd (as a Teutonic warrior-knight), a cross-dressed Bugs Bunny (as "Brunhilda"), and music from Richard Wagner's 18-hour opera Der Ring des Nibelungen. In 1992, What's Opera, Doc? became the first-ever animated film to be inducted into the National Film Registry. At its conclusion, as the Tannhauser Overture plays, Elmer walks away with a lifeless Bugs in his arms, who perks alive and memorably quips: "Well, what did you expect in an opera -- a happy ending?"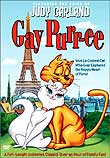 Jones also contributed script and character designs to UPA's Gay Purr-ee (1962), one of the last animations produced by the innovative studio. Similar to Disney's Lady and the Tramp (1955) (and Disney's later effort The Aristocats (1970)) and The Wizard of Oz adventure tale about a country girl, this full-length animated classic featured the voices of Judy Garland (as young feline heroine Mewsette who set off for Paris in the Gay 90s), Robert Goulet (as country bumpkin beau, Jaune-Tom in pursuit), and Hermione Gingold (as cathouse manager Madame Rubens-Chatte), and original songs by Wizard of Oz composers Harold Arlen and E.Y. (Yip) Harburg.
[Jones' main period of work in cartoon shorts was from 1938 to 1961. Then, he opened his own company, Chuck Jones Enterprises, in 1962, producing nine 30-minute animated films. As animation studios were closing down, he slowly began to move into television and the production of features. From 1963-1971, Jones headed the MGM animation department. His The Dot and the Line (1965) was an Academy Award winner for Best Short Subject: Cartoon. One of Jones' greatest accomplishments was directing (as chief animator) the popular half-hour animated holiday TV special Dr. Seuss' How the Grinch Stole Christmas (1966), a Peabody Award winner, with horror actor Boris Karloff providing the voice of the Grinch. Jones also directed/produced other Seuss classics, including Peabody Award-winning Dr. Seuss: Horton Hears a Who! (1970) and Dr. Seuss: The Cat in the Hat (1972).
For Chuck Jones' first and only feature-length film, he adapted the children's fantasy novel The Phantom Tollbooth (1970), based on Norton Juster's classic children's book, about a young boy who traveled through a mysterious tollbooth into a magical world, with educationally-oriented numbers and words kingdoms, such as Digitopolis and Dictionopolis. His next project was executive producing an animated, Oscar-winning made-for-TV half-hour short subject A Christmas Carol (1971) with Alastair Simm reprising his 1951 film role as the voice of Scrooge - the only version of Dickens' tale to win an Oscar. Later, he developed The Bugs Bunny/Road Runner Movie (1979), a compilation of eleven shorts including his own two masterpieces mentioned above, and an 11-minute Road Runner montage-compilation consisting of 31 gags from 16 cartoons. One of his final works was an original cartoon short in Peter Hyams' satirical view of TV titled Stay Tuned (1992) in which an American suburban couple (John Ritter as Roy and Pam Dawber as Helen) became transformed into cartoon mice. He also directed an animation segment for the feature film Mrs. Doubtfire (1993).
With a 60 year career, and about 300 animated films, Chuck Jones won a total of three Academy Awards (the three awards were for: (1) For Scent-imental Reasons (1949) (with Pepé LePew) - Pepe Le Pew's sole Oscar nomination, (2) the animated short So Much for So Little (1949) that won in the Documentary: Short Subject category, and (3) The Dot and the Line (1965)), and he was presented with an Honorary Oscar in 1996.]